As you prepare for this Sunday's worship keep the following in mind:
We anticipate many visitors this Easter Sunday. So please greet everyone you see - especially new faces!
The theme of worship and the sermon is a transition from the sermons responding to

  The Passion of the Christ  

and anticipating a series from April 18 - May 16 focusing on what it means to be Christ's church. We have focused on the cross, now what does it mean to be a Community Beneath the Cross?
Remember in your prayers those on our published prayer lists.
Read the following Scriptures as you pray and prepare for worship: Psalm 118:15-24; Revelation 3:19-21; John 20-21; Luke 24; Mark 16; Matthew 28; 1 Corinthians 15.
Order of Worship and Discipleship:
Welcome and Prayer

Scripture for Call to Worship (Psalm 118:15-24)

Song – "This is the Day That the Lord Has Made"
Song #587 – "Sing and Be Happy"
Song #162 – "All Hail the Power"
Song #166 – "He's My King"

Scripture Reading (Revelation 3:20-21)

Song #364 – "Come, Share the Lord"
Communion

Offering (with a song)

Song #828 – "Instruments of Peace"
TWENTY SECONDS THAT MAKE ALL THE DIFFERENCE
(John 20:19-23)
Critics of   The Passion of the Christ   have complained that the movie only gives 20 seconds to the resurrection ...
Without the 20 seconds of the resurrection the movie is an empty, meaningless tragedy. There is no hope, no justice, and very little meaning to Christ's death on a cross.
With the 20 seconds everything is changed. As Jesus says to Mary in the film, "Behold, I make all things new!"
It is fitting that the titles do not roll until after the scene of the resurrection, for this truly is the beginning!
It makes a difference whether we regard someone as dead or alive
We can revere, imitate, remember, memorialize a historical figure.
We can learn about them, we can discover new things about them that we did not know before
We can discuss their life and teaching.
But we cannot interact with them. We cannot learn from them. [Hillary Clinton was criticized for conversing with Eleanor Roosevelt – Mrs. Roosevelt really cannot say anything to Mrs. Clinton that she doesn't imagine for herself.]
But if a person is alive, we can talk to them and learn from them.
If Jesus is dead ...
Then he is at best a revered figure from the past. A just man and noble teacher who died for his principles. He lives on in the memory of his followers and through his teaching. His immortality is not any different that that of Buddha or Socrates or Eleanor Roosevelt.
And that means that the Lord's Supper is nothing more than a memorial and the Bible is a collection of writings about Jesus.
He cannot be Lord in any real authoritative sense
If Jesus is alive ...
The he's still around. Perhaps his existence is different than what it was in a way I will not even attempt to explain here, but if he is alive then he is present. And he can interact with us.
In what sense is Jesus alive?
Not simply immortalized in his teaching
Not simply the endurance of his spiritual force
Not simply his memory and his legacy
He is the Living One
He is the new humanity, the firstborn from the dead.

It Makes a Difference for the Church ...

The last image before the final 20 seconds in   The Passion of the Christ   seems to be of a group people gathered around the dead Jesus ... It is a community beneath the cross and a worthy symbol of what it means to be "church."
The community of faith – the church – is formed only because Jesus lives. Once again, those 20 seconds make all the difference. The resurrection of Jesus Makes a Difference not only for Jesus, but also for us. John 20 is case in point.
[Read John 20:19-23]
Consider the state of the disciples when they regard Jesus as dead . . .
Locked away in fear of punishment and retaliation.
Purposeless, giving up on their dreams. (They are ready to go back to business as usual when they once had enough courage and faith to leave everything – John 21.)
They are riddled with guilt and suspicion. (One of their own that they trusted betrayed Jesus and he is now dead. They are painfully aware of their own weaknesses and emptiness.)
The memory of Jesus, the strength of his teaching, his noble example are not enough to make an adequate difference for this group. Not until they encounter the living Jesus.
The Living Jesus gives Peace and the Holy Spirit.
The spirit enables the disciples, the church to carry out their witness in a hostile world. They are instruments of his peace. What else explains the change we see in this community of believers? On the night of Christ's arrest they are filled with fear but when they are brought before the Sanhedrin for preaching in his name they are filled with the Holy Spirit.
They are given new life. That is the gift of God's Spirit (Genesis 2:7, Ezekiel 37:9-10).
Consider what this means for us:
How shall we make disciples for Jesus? How shall we know peace and overcome the anxiety and discontent we feel as the world around us seems hostile and unsettling? We need the Holy Spirit if we want to live. We need to be "inspired."
Christ lives, he gives the Spirit. Those 20 seconds make all the difference
The Living Jesus sends the church.
He is not turning it over to them. "As the Father has sent me" implies a past sending that continues. This sending has permanence. Christ has a continuing mission – though the form of that mission has changed after the cross and tomb.
See John 14:12-14.
He is re-commissioning them to share in his work. They are allowed to be participants in the mission of Jesus that continues. [Peter is restored – John 21]
Think of what this means to us:
In all our efforts we are never alone. Christ is with us. That ought to humble us and embolden us. Christ is not a CEO at some office far away who signs the checks so we can do the work. His presence surrounds every event. He is there before us, he is there behind us, he is always over us. We are not members who participate in the mission of the church – we are the church that participates in the mission of Christ.
Christ lives, he sends the church. Those 20 seconds make all the difference.
The Living Jesus forgives – and so also may we forgive.
The risen Christ forgives them and gives them they authority to forgive, thus giving them the key to truthful community [fellowship – eating together].
This is no subjective rule that gives us the authority to accept or reject whomever we please. It is an invitation to participate in the grace of God that endures sinfulness and offers hope of reconciliation. Christ's mission was not to condemn the world, but to save it. Our mission cannot be to condemn. We proclaim the power that gave Jesus life, the mercy that made us his friends; those who reject this condemn themselves, those who accept it receive the kingdom of God.
If Jesus is dead then we can only work to achieve a sense of forgiveness and reconciliation. Like a child who harbors anger at a deceased parent. Often ministers and friends counsel people to reconcile with others while they are still alive. Why? So that one might hear the words "I forgive you" from a living person. Christ is alive. And his forgiveness is not the last will and testament of a dead teacher. It is a present voice and an active expression of love. He has chosen to express that forgiveness in his church.
So, when we forgive one another it is not our forgiveness that is most important. Rather the mercy that we have received from Jesus Christ compels us to be forgiving and merciful.
Think of what this means for us:
When we struggle to forgive others (and let's admit we do sometimes) we need to focus on Jesus forgiving us – for without that we have no right to even consider forgiving anyone else – much less hold a grudge! When we extend forgiveness and when we work to reconcile people – we are not just reconciling them to us, but to more importantly to Christ who reconciles all of us to God.
Christ lives, he forgives – and so must we. Those 20 seconds make all the difference.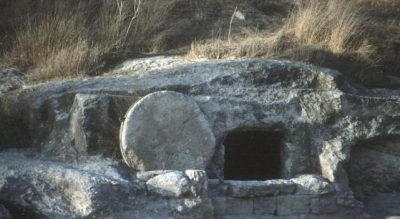 This spectacular photo was taken in Lower Galilee in 1998 by Julie Martinez.
Used with permission.
The day that Christ rose is the first day of a new age. Jesus is the first of the new humanity – the new life. We get to sample it through the Holy Spirit.
The community beneath the cross does not gather around a dead savior. In his resurrected body he bears the marks of the crucifixion – affirming that his death had meaning. The crucified one is also the living one. The living one is Lord. This is our confession that makes us his church.
In baptism, we enact and participate in the gospel event: the death, burial, and resurrection of Jesus. With great conviction we have proclaimed what Peter did - that belief, repentance and baptism are essentials of salvation. Those who've experienced this can be sure that God has added them to the church.
But keep in mind that Peter and every evangelist worth his salt thereafter has proclaimed with equal conviction that the Jesus who was crucified is now the risen Lord. That proclamation makes all the difference. Without that conviction, the rest of it is meaningless.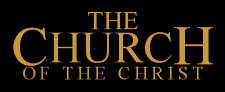 If Jesus is not resurrected, then he is not Lord. But something happened that Sunday long ago that changed a timid group of believers into a cross-carrying community sent out in the name of Jesus. We believe it was the presence of the risen Lord. He still lives. His presence and Holy Spirit is no less powerful now than it was then.
Song for Responses – #853 – "When We All Get to Heaven"

Sending Out Prayer
Chris Benjamin
West-Ark Church of Christ, Fort Smith, AR
Morning Sermon, 11 April 2004
---
 Link to next sermon
 Link to other sermons of Chris Benjamin