THE MESSENGER & THE HARBINGER
Restoration History #5
Click here to listen to this sermon.
Please ask Chris Benjamin for permission before reproducing
any of the images, graphics, or charts on this page.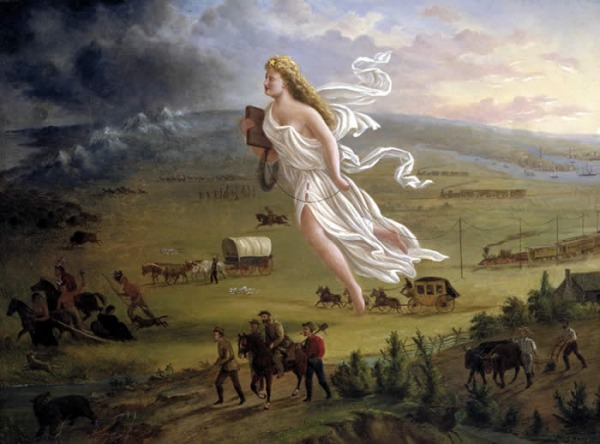 "American Progress" by John Gast, 1872
A Tale of Two Journals
Christian Messenger

Barton Stone, editor
1826-1845
"Point the way of reformation"

Millennial Harbinger

Alexander Campbell, editor
1830-1870
To destroy sectarianism and introduce the Millennium
Stone's Theology
Unity through the Spirit

"Let unity be our polar star"
Four kinds of Union

Apocalyptic

Non-political
Kingdom of God

Holiness
Campbell's Theology
Unity

Ecumenical
Agreement on essentials

Ancient Gospel and Ancient Order

Primitive religion & Rational thought

Millennium

Postmillennial
Optimistic of progress and American government

Stone: Premillennialist
The Kingdom of God will break down and judge every earthly government
Anti-slavery, non-political, pacifist
Unity would usher in the millennium
Campbell: Postmillennialist
Unity and Restoration are means to an end.
American progress was the dawn of the millennium.
It connected his complex views on restoration and unity.
The Two Alexander Campbells
Sectarian vs. Ecumenical
Debating vs. Cooperative
Rigid vs. Open
Primitive vs. Common
The Tension in Campbell's Theology
Unity vs. Restoration

General faith vs. Orthodox faith
Enlightenment (reasonable agreement) vs. Puritanism (purity and exclusion)

Primitivism vs. Postmillennialism

Past vs. Future
Regression vs. Progression
Campbell: The Sage of Bethany
America's Millennial dreams faded by 1866 [due to Civil War].
Campbell's followers, not sharing the millennial hope, began to divide.
Each side held a place of honor for and laid claim to the legacy of Alexander Campbell.
Chris Benjamin
West-Ark Church of Christ, Fort Smith, AR
Evening Sermon, 6 April 2008
---
 Link to next sermon
 Link to other sermons of Chris Benjamin