A LINE IN THE SAND
Restoration History #9
Click here to listen to this sermon.
Please ask Chris Benjamin for permission before reproducing
any of the images, graphics, or charts on this page.
Why Did We Divide?
The Issues:

Missionary Society
Musical Instruments in Worship
Professional Ministers
American Christian Missionary Society
During the war, Southerners were unable to attend the national meetings in Ohio.
October 1861 - The ACMS considered a resolution to support the Union.
ACMS Statement of 1863
"We unqualifiedly declare our allegiance to the U.S. government ... We tender our sympathies to our brave and noble soldiers in the field."
Southern Reaction
Tolbert Fanning

- Nashville, TN
- Editor, Gospel Advocate

ACMS authorized Disciples to join the Union army in the murder of the Southern people.
David Lipscomb demanded the ACMS repent
Restarted the Gospel Advocate:

"... not a single paper known to us that Southern people could read without having their feelings wounded by political insinuations and slurs ..." (1866).
The "Old Fogy"
"We are not at home in a fine editorial chair, with a cigar or pipe in our mouth, opening the letters and telling others how and where to work, but we are in the field." -- Ben Franklin (1867), editor of American Christian Review
Ye Shall Know Them By Their Periodicals
Christian Standard, edited by Isaac Erret.
Progressive paper for the post-war support of the Union.
"Standard Men" vs. "Advocate Men"
Class and Culture
Central Christian Church in Cincinnati, Ohio
Built new French Gothic style building in 1872
Seated 2000, stained glass, organ, choir pit
Cost = $140,000
"It is finished" - John 19:30

"We know the doctrine advocated by [the writers in the Christian Standard] comes from the North. It is neither scriptural nor Southern, and it is not suited to Southern people." - T. R. Burnett (1892)
Musical Instruments in Worship
Not an issue in frontier churches
Visible point of separation
Economic and social arguments
Use of Scripture arguments
Legal battles over church property
Alexander Campbell in 1851
"But I presume, to all spiritually-minded Christians such aids would be as a cow bell in a concert."
An Aid to Singing
Midway, Kentucky, in 1859
L. L. Pinkerton brought in a melodeon to help the singing that was so bad it "scared even the rats from worship."
"Refined Ears"
"These refined gentlemen have refined ears and enjoy fine music manufactured for French theaters, interspersed with short prayers and very short sermons." - Ben Franklin (1860)
The Arguments Form
Pro-Instrument
Expediency
Silence of Scripture allows use
Issue of freedom
Progressive

     

Anti-Instrument
Worldliness
Silence of Scripture prohibits use
Issue of principle
Digressive
Mediating Position
"We shall advise our brethren everywhere, for the sake of peace ... To discard the use of instruments ..." – Isaac Errett, 1870
A Line in the Sand
Opposed those who advocated "innovations"
Called for separation in Sand Creek [Illinois] "Address and Declaration" of 1889 by Daniel Sommer

Thomas Campbell – "Declaration and Address" [for unity]
Daniel Sommer - "Address and Declaration" [for division]

"We cannot and will not regard them as brethren."
Division Shaped our Identity into the 20th Century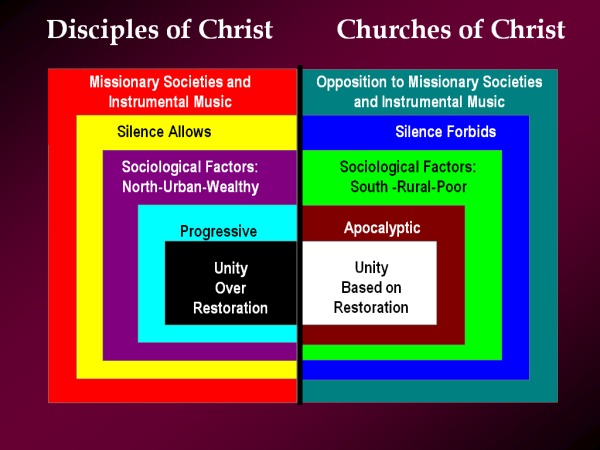 The 1906 Admission
"There is a distinct people taking the word of God as their only sufficient rule of faith, calling their churches 'churches of Christ' or 'churches of God,' ... " - David Lipscomb
Chris Benjamin
West-Ark Church of Christ, Fort Smith, AR
Evening Sermon, 4 May 2008
---
 Link to next sermon
 Link to other sermons of Chris Benjamin