SPEAK WHERE THE BIBLE SPEAKS
Restoration History #11
Click here to listen to this sermon.
Please ask Chris Benjamin for permission before reproducing
any of the images, graphics, or charts on this page.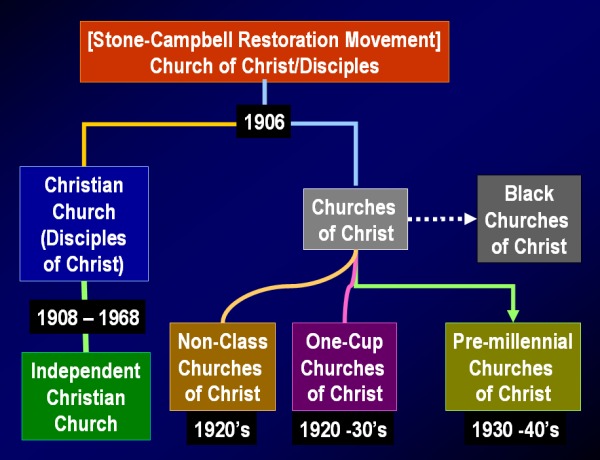 "Accept Him Who is Weak"
David Lipscomb (1875):

"So long as a man really desires to do right, to serve the Lord, to obey his commands, we cannot withdraw from him."
Declaration and Address
Thomas Campbell (1809):

Where the Bible is unclear or silent, no disagreement should divide Christians.
When Campbell spoke of "being silent where the Bible is silent," he allowed for strong opinions on what that silence meant.
1832 Union
Raccoon John Smith:

Silent on the precise positions that Christians might take that are not part of the gospel.
Speak where Bible speaks = simply use the words of Scripture.
All Silence is Not Equal
Silence permitted the Missionary Society
Silence forbade instrumental music in worship
Three-Part Hermeneutic
Focus is on what practices the Bible authorizes:

Direct Command,
Approved Example, and
Necessary Inference
Other Considerations
Does this practice reflect the nature of God?
Is it in line with the biblical story of redemption?
Does it build up the church?
Does it promote Christian virtue?
Is it a "weightier matter"?
Speaking Where the Bible Speaks
Black Churches of Christ
"I have had to rely upon God, he is the only one I had. The white man didn't like me because of the color of my skin. The colored man didn't like me because of my religion. Now, son, who else did I have?" -- Marshall Keeble
Chris Benjamin
West-Ark Church of Christ, Fort Smith, AR
Evening Sermon, 18 May 2008
---
 Link to next sermon
 Link to other sermons of Chris Benjamin