ROOTS AND BRANCHES
Romans 11
Click here to listen to this sermon.
The Lord's Genius
God's not finished with Israel
If He can save Israel to save the Gentiles ...
Then He can save the Gentiles in order to save Israel!
Past, Present, Future
Past: Romans 9:6-29 – God Shapes a People
Present: Romans 9:30 – 11:6 – Remnant
Future: Romans 11:7-36 – God's Mysterious Plan
Did God Reject Israel?
Saul/Paul the Benjamite
Listen to all that the people are saying to you; it is not you they have rejected, but they have rejected me as their king. – 1 Samuel 8:7
God's Saving Remnant
1 Kings 19 – Elijah and Remnant
Three texts describing Israel's inability to see God's work
– Deuteronomy 29:4
– Isaiah 29:10
– Isaiah 6
The Future of Israel
God has not rejected Israel forever
Israel is not without hope
– Psalm 69:22-23
Nothing separates us from God's love (Romans 8)
God will use it to His purposes
Warning to the Gentiles
Romans 2:17 – Warning to Jews not to boast in their advantage with the law
Romans 11:11-16 – Warning to Gentiles not to boast in their advantage in the present
Image #1: The Lump
Lump of dough, lump of clay
Numbers 15:19-20 – The first-fruit offering of the grain
If the portion is consecrated, then so is the rest
Image #2: The Root
Gentiles were wild branches grafted into the "chosen" nation
Remember your place
Don't despise the root
Historical reality – Jew first and also Gentile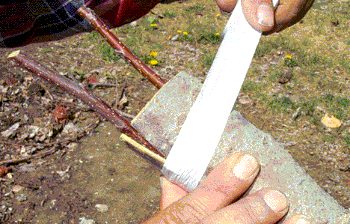 Chiasm
Kindness
– Sterness
– Sterness
Kindness

X
Israel
– Gentile
– Gentile
Israel

X
Ingrafted Branches
The Future
The broken branches can be grafted back into their own root
Sin and Grace
Oh, the depth of the riches of the wisdom and knowledge of God!
Chris Benjamin
West-Ark Church of Christ, Fort Smith, AR
Evening Sermon, 8 February 2009
---
 Link to next sermon
 Link to other sermons of Chris Benjamin