THE LORD SAVES ISRAEL
1 Samuel 11-13
Click here to listen to this sermon.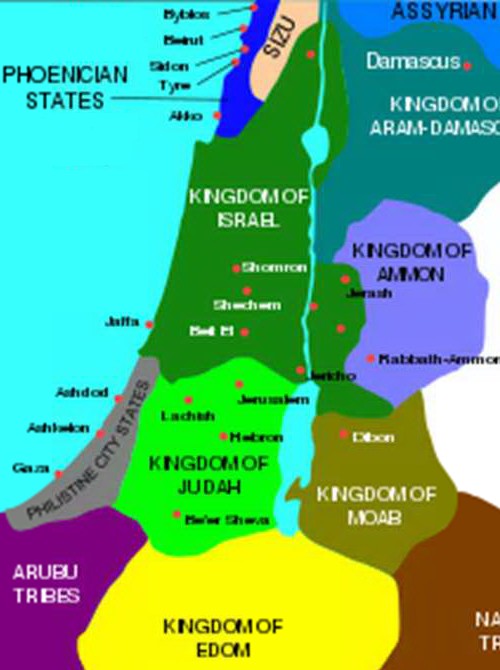 Ammonites
Deuteronomy 23:3
Refused Israel passage during the Exodus

When the Israelites of the Exodus paused before their territory, the Ammonites prohibited them from passing through their lands. For this act, they were denied entry into "the congregation of the Lord." – Deut. 23:3
Attacks by the Ammonites on Israelite communities east of the Jordan were the impetus behind the unification of the tribes under Saul, who defeated them.
From Samuel II 10:2, it may be concluded that Nahash assisted David out of hatred for Saul; but his son Hanun provoked David by ill-treating his ambassadors, and brought about the defeat of the Ammonites, despite assistance from their northern neighbors in Aram. Their capital Rabbah was captured, and numerous captives were taken from "all the cities of the children of Ammon."
Nahash
The Snake
Especially cruel
Gouges out right eyes
– Debilitating
– Humiliating
Jabesh-Gilead
Refused to muster in Judges 21:8-9
Gives Jabesh a choice – lose your eye or die!
Jabesh gets 7 days
Seven days to determine if Israel is going to be saved
Who Will Save Israel?
v. 3 – If there is no one to save us
v. 9 – You shall have deliverance
v. 13- The Lord has worked deliverance in Israel
Savior Saul
Saul is outraged by the oppression and humiliation
Saul is consumed with the Spirit of God
God empowers Saul to rescue Israel

He's farmer Saul to begin with.
He has compassion on his critics.
Samuel's Farewell
God is witness
Now you have a king
Who saved you?
You and your king do right
Holy War – 1 Samuel 13
Saul musters Israel to go against Philistia
The troops are going AWOL
Saul does not show trust (offers sacrifice)
The dynasty will go to another
Chris Benjamin
West-Ark Church of Christ, Fort Smith, AR
Evening Sermon, 10 May 2009
---
 Link to next sermon
 Link to other sermons of Chris Benjamin