THE COURAGE TO LEARN
2 Timothy 2:14,15 "Remind them of these things, and solemnly charge them in the presence of God not to wrangle about words, which is useless and leads to the ruin of the hearers. Be diligent to present yourself approved to God as a workman who does not need to be ashamed, accurately handling the word of truth."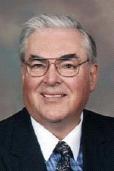 1935-2006

It is easy to indoctrinate. It is hard to teach. Why? Indoctrination only requires that willing people give you their minds for you to tell them what to accept. Teaching requires the student to possess his own thoughts, but to learn how to think. It is harder to teach people to possess their thoughts and think than it is to capture minds of willing people and tell them what to think.

For a number of reasons, I rarely discuss the death of a member in this article. In this article, I make an exception. Richard Hostetler died last Friday in Sallisaw, Oklahoma after a lengthy illness. Richard was a member of this congregation, but had not been able to attend for health reasons for a few months.

Early after I came to work with you, Richard—after hearing a few lessons—came to me to offer what I would call 'insightful encouragement.' Frequently he would specifically encourage me in some matter. His insights were always appreciated.

Since his death, two members of the class he was in stated how much he would be missed. Both commented on his biblical scholarship. One discussed his positive attitude and his insightfulness. Both observed what an addition to the class he was. When was the last time you heard members of a class grieve the loss of a Bible scholar and a positive attitude in their Bible class? All those who were blessed by Richard will miss him!
David Chadwell
West-Ark Church of Christ, Fort Smith, AR
Bulletin Article, 6 April 2006
---

Link to next article
 Link to other Writings of David Chadwell