GOD'S FINGERPRINTS
When good things happen, we must give God thanks! His fingerprints are all over everything good that happens! When we each do good, good exists because God gave us ability and opportunity. We utilize, but we never create.
There is no way Joyce and I could begin to thank you for the many, many kindnesses of last Sunday. The thoughts, written notes, and vocal expressions of love and appreciation touched us. We are delighted my mother was here to witness your love and kindness. Many times she said, "This is the best possible place you could be." Thank you for the love that provided her so much joy and reassurance, and provided us so much gratitude.
When I think back a decade to the time we considered moving here, I recall critical blessings. I think of Duane and Marquetta Walker's role in our coming. They opened the "possibility door." I think of Jim and Deborah Wilson's assurances. [These four were the only adults we knew in this area.] I think of the elders' constant encouragements and their willingness to hire a 56 year-old man. I think of the Oxford visit made by the Matt Griffins and the Paul Shirleys. I think of all the potential for growth and development God placed here.
As I think of beginning our work together, I think of Helen Pratt's assistance. I think of the countless ways Brad Pistole helped me. I think of Roy Dunavin's encouragements. I think of the endless help of the secretaries. I think of your personal prayers and encouragements. I think of how quickly all of you made us feel "at home."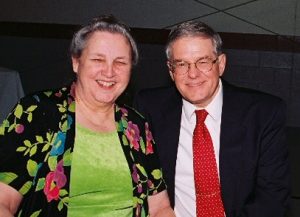 Several asked if we were leaving. I asked, "Do you know something I do not know?" Joyce and I hope to be a part of you for a long time. As the last year and a half has proven to me, none of us know what lies ahead. At this time, we have no plans to leave West-Ark. I told several they could nickname me "velcro." I have no doubt that my role will change, but we hope to continue to be part of you.
We feel blessed and humbled to be a part of you. We thank God that we have been and are blessed by all who have been part of our lives the last ten years! No congregation will ever be perfect, but opportunities always will increase if we are devoted to God's purposes in Jesus Christ. Because we are, may God always be praised and honored!

Ephesians 4:30 "Do not grieve the Holy Spirit of God, by whom you were sealed for the day of redemption."
1 Thessalonians 5:23 "Now may the God of peace Himself sanctify you entirely; and may your spirit and soul and body be preserved complete, without blame at the coming of our Lord Jesus Christ."
David Chadwell
West-Ark Church of Christ, Fort Smith, AR
Bulletin Article, 16 November 2006
---

Link to next article
 Link to other Writings of David Chadwell