GOD IS NOT SHALLOW
"Oh, the depth of the riches both of the wisdom and knowledge of God! How unsearchable are His judgments and unfathomable His ways! For who has known the mind of the Lord, or who became His counselor? Or who has first given to Him that it might be paid back to him again? For from Him and through Him and to Him are all things. To Him be the glory forever. Amen." (Romans 11:33-36)

"For this reason I bow my knees before the Father, from whom every family in heaven and on earth derives its name, that He would grant you, according to the riches of His glory, to be strengthened with power through His Spirit in the inner man, so that Christ may dwell in your hearts through faith; and that you, being rooted and grounded in love, may be able to comprehend with all the saints what is the breadth and length and height and depth, and to know the love of Christ which surpasses knowledge, that you may be filled up to all the fullness of God. Now to Him who is able to do far more abundantly beyond all that we ask or think, according to the power that works within us, to Him be the glory in the church and in Christ Jesus to all generations forever and ever. Amen." (Ephesians 3:14-21)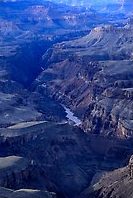 Almost a decade ago, Joyce and I visited the Grand Canyon for the first time. I have been to numerous places and seen numerous sights, but I have never seen anything that overpowered me as did the Grand Canyon. I have never seen a picture that did the Grand Canyon justice. It is simply too big and too vast for my mind to comprehend. I would love to see it again just to convince myself it is there. I know it is, but my mind kept asking, "Is that really there? Can anything that huge be real?" My reaction to the Grand Canyon is a mere introduction to Paul's reaction to God's accomplishments in Jesus.
Paul wrote long after Jesus' death and resurrection. Prior to his conversion, Paul was quite knowledgeable in God's past works (Galatians 1:14). Yet, with all he knew, nothing (not even God's creative acts!) prepared Paul's understanding for what God did (and does) in Jesus Christ! Nothing documents God's greatness as do His accomplishments in Jesus Christ! Nothing documents the enormity of God's love as does Jesus Christ! One cannot fathom God's greatness until the person begins to see what God did in Jesus.
At times, I hear people speak of God and His ways as being simple. Sometimes I hear people who think they have God all figured out. When that happens, I shake my head internally. Is any ignorance greater than not knowing one is ignorant? The more I seek to understand God and His ways, the more I realize I have far more to understand than I have comprehended. Never will any of us totally comprehend Him in this life.
Always be open to God. Always listen to Him to understand, even if it means changing yourself. Let God mold you rather than you attempting to force God to fit your mold. The object of everyone in Christ is to become more like God. We are catastrophe! He is victory! We are sinful! He is righteous! His ways are not our ways. Our hope is found in being like Him. Never stop seeing Him "again" -- He is there!
David Chadwell
West-Ark Church of Christ, Fort Smith, AR
Bulletin Article, 16 August 2007
---

Link to next article
 Link to other Writings of David Chadwell