THE HOPE CHEST
Serving With A Heart Like Jesus
The Hope Chest
Corner of 4th & H
Fort Smith, Arkansas
(479) 452-1240


A ministry of West-Ark Church of Christ
Clothing         Furniture         Housewares

Hours of Operation
Tues., Wed., Thurs.: 9:30 - 12:30
third Saturday: 11:30 - 1:00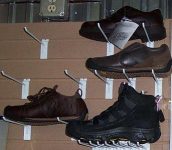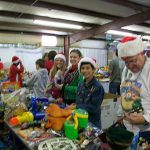 In October, 2008, the Hope Chest distributed 146 pairs of men's shoes.
In November, 55 pairs of shoes were distributed.
These were received as a partner of Soles4Souls (through C.U.R.E.).
For more photos, click here.

More than 300 people were served and approximately sixty
West-Ark members of all ages were involved in our 4th annual
toy giveaway on December 13, 2008, organized primarily by Connye Neal.
See 2007 photos. See 2008 photos.
---
The Hope Chest is a benevolent work located in a large warehouse at 4th and H Streets in Fort Smith, Arkansas. The Hope Chest distributes clothing and small household items at no charge to families and individuals that declare themselves in need. Most items are used and are donated by members of the West-Ark Church of Christ or private citizens. Area businesses have donated surplus inventory as well as national organizations. Some items such as socks or underwear are purchased as funds are available.
The Hope Chest began in December 2005 with a voluntary Board of Managers. The Hope Chest is staffed by volunteers.
The Hope Chest will, on occasion, host special activities. The Hope Chest has held annual Toy-Give-Aways each December since 2005, servicing hundreds. In August the Hope Chest sponsors an annual Back-to-School Supply drive for Fort Smith's homeless students. The supplies were distributed by the Fort Smith Public School District's Homeless Liaison.
---