LIFE ON THE VINE:
CULTIVATING LOVE
The call to worship for Sunday

We believe that God is love
We believe that God so loved the world that He GAVE his one and only Son, and whoever believes in Him will not die but have eternal life.
We believe that the greatest commandments are: Love the Lord God with all of your heart, soul, strength, and mind; and Love your neighbor as yourself.
We believe that love never fails.
We believe that faith expresses itself through love.
We believe that one cannot love God and hate one's brothers and sisters.
We believe that this is love: Not that we loved God first, but that He loved us and sent His Son as an atoning sacrifice for our sins.

Call to worship – our response to God's love.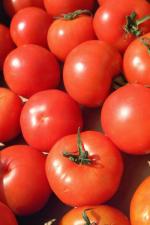 The other day I saw a sign advertising garden-fresh tomatoes. It made me sad because I know that we are heading for the season without tomatoes. Once I was asked why I don't just get a tomato from the grocery store. My answer is simple, what you usually get in the produce section of a store isn't really a tomato. Call me a tomato purist if you like, but there is a difference. There are tomatoes and then there are these strange fruit that are passed off as tomatoes.
These imitators are like tomatoes made by Madame Tussaud. They look like the real thing but they are made of wax. They are mass produced and the goal is to make them strong enough to survive transport. So they are hard. I have heard rumors of people playing softball with one of these at a picnic because the forgot the softball. They are always the same color – as if they have been spray painted or dyed. I fear they have been nourished on a strange mix of water, sucrose and red dye#2. I cannot describe to you how they taste. I really don't know. They don't really have a taste. It is like eating vegetable fiber but no flavor. And they do not have that perfect tomato smell. They smell of packing wax and shellac.
Tomatoes – real tomatoes – are soft and juicy. They can barely survive the trip from the garden to the brown paper bag – and that's good. You hold them gently lest the skin rips beneath the pressure of your fingers. They are reddish or yellowish. They may be shaded but that doesn't disturb the taste. You slice them and the meat falls apart like a tender steak. The smell is what gets you first – just as you are about to bite into one or eat up some of the slices you sense along with the tomato scent the faintest aroma of the vine. That the mark of a real tomato. And the taste is just a perfect sweetness combined with a slight bite of sour. And if some of the juice doesn't trickle off on your chin at some point then you are not eating a real, God-made, natural tomato.
There's a lot of confusion in our culture about tomatoes because the store variety is so much more common than the variety plucked straight from the garden vine.
And as we strive to cultivate the fruit of the spirit, first of which is love, there is also a lot of confusion for much the same reason. There is a mass-produced, store-bought, marketed variety of love. It is a fruit that is fed by other spirits. It looks like love, it imitates love, some even assume that it is love and it may share some basic characteristics, but it certainly isn't the Holy Spirt-nourished fruit called love that we observe when the life that manifests love is connected to the true vine.
The word tomato is generic and there are many varieties. So also, the word love in our language is generic and it comes in varieties. The word itself is part of the problem and the word may reference a variety of ideas. Love that is the fruit of the spirit will resemble God's love since it is nourished by the true vine and filled with the Holy Spirit. Just as we described a real garden-fresh tomato, we can describe genuine, God-like love.
What Do We Know About God's Love?
(Note the following lists are suggested by Phillip Kennson, Life on the Vine, chapter 2)
God's love is unmerited and undeserved. – When we say unmerited we mean that God's love is not something we earn. There are no pre-requisites of God's love. (My children are making their plans to earn scouting awards. Earning a scouting award involves hard-work and preparation, but when you do the work, you earn it. That's merit. But God's love cannot be merited. If you could earn it, it really wouldn't be love. This can be very hard for us to accept, but even harder is to realize that not only can we not earn God's love – we do not deserve it. We haven't always been the most lovable people. Yet, God loves us.

(Romans 5:8 - God demonstrates his own love for us in this: While we were still sinners, Christ died for us; Eph 2:4-7 - 4But because of his great love for us, God, who is rich in mercy, 5made us alive with Christ even when we were dead in transgressions—it is by grace you have been saved)
Compare to Hosea 3:1. The LORD said to me, "Go, show your love to your wife again, though she is loved by another and is an adulteress. Love her as the LORD loves the Israelites, though they turn to other gods.
So much of our faith is centered on the fact that God's love is unmerited and undeserved. Yet, churches still behave as if God's love is the result of divine bargaining or contract. We act to insure God's favors and blessing. I am convinced that the quality of our discipleship and the nature of our life together would grow to the next level if we would take this one simple truth to heart and live it out. Instead of coming to worship trying to calculate how we can maintain God's grace, instead of organizing church work and church life in such a way as to avoid God's wrath or get his attention, we would live honestly before God and one another and say in wonder with the apostle John "Behold what manner of love the Father has given unto us!"

God's love is steadfast. – Have you ever fallen out of love? Have you ever been in love with a person then years after the "break-up" wonder what you ever saw in that person? That's not steadfast love Because the love of God is so real it is steadfast – it isn't momentary or capricious. God doesn't break up with us when we change the way we feel about him. Romans 8:31-39 For I am convinced that neither death nor life, neither angels nor demons,[m] neither the present nor the future, nor any powers, neither height nor depth, nor anything else in all creation, will be able to separate us from the love of God that is in Christ Jesus our Lord. Can a Christian fall away? Sure, it happens all the time. Can people reject the love of God? Absolutely, it has happened so many times. But we cannot stop God from loving us. Even if we should choose to separate ourselves from the love of God, this doesn't mean that God stops loving us. Love that gives up or fades away isn't really love.
God's love is a love that suffers with us. – God doesn't stop loving us when bad things happen either. Job's friends seem to have out lived Job. Their spirit continues into our culture today. I have heard people say that when something bad is happening, when someone is suffering, they are cut-off from God's love. Or God is holding something against them. That's not love. Yes, trials and suffering can be the consequence of our own sin – that is obvious. But to assume that all suffering is the judgment of God ignores the truth of God's love and the testimony of the cross. Jesus humbled himself and became obedient to death — even death on a cross! (Phil 2) Why is God willing to suffer with us? Because he loves us enough to bear the burden with us. Love that cannot share in suffering isn't really love.
God's love is without boundaries. – We tend to draw limits to love. We limit love to fences, borders, levees. Love your enemies! What a strange suggestion. If one is our enemy doesn't that mean that love is absent? We find it difficult to accept this. When Jesus told the expert in the law to love God and love your neighbor as yourself, the expert in the law asked the boundary question – "Who is my neighbor?" Do I have to love everyone? Love with boundaries isn't really love. It is an imitation.
God's love is directed toward others. - It moves beyond self-interest and looks to the interest of the other. God doesn't love for his own sake. He loves because he is drawn to our interest, not his own. Paul urges us to immitate the mind of Christ (Phil 2) in our life together. To focus on the interest of others. His model for doing so is Jesus Christ who became a man and offered his life on the cross for our sake – certainly not his own.
Why is it so difficult to cultivate God-like love in our culture?
Just as the demands of the market-driven economy force farmers to mass-produce the waxy imitations of real tomatoes, the forces of our culture are hostile to the cultivation of real love. It is no wonder that the love of God comes to us a something unfamiliar – we are not used to seeing it even in its natural habitat. Don't misunderstand, God's love is enduring, but the cultivation of God-like, fruit of the spirit love in our lives and even more so in our church (our life together) is hindered by certain "pests" that may allow us to produce the imitation or just a big green leafy plant, but if we don't overcome these hostile cultural elements our garden will not grow ...
Our culture promotes self-interest. The economic system of our culture is an incredible power to deal with. Think about all the coverage of the hurricanes. What is one of the primary concerns – gas prices! And how is it reported? It will hurt us!

We are encouraged to think of ourselves as self-interested parties in the marketplace. We all have to "do" for ourselves. The customer is always right, we are consumers looking for the best service (and we even carry this over into our non-marketplace relationships such as school, church, family.) The power that shapes our relationships in these other arenas is the power of self-interest. Can we recognize how toxic this is to the cultivation of God's love? It is a dangerous blight that corrupts the growth of the fruit of the spirit.

Putting a price on everything and everyone. Value is calculated in terms of money. Isn't it interesting that there are so many ways to measure a hurricane? Category, intensity, strength, and monetary destruction. (The most intense hurricane in the Atlantic was an unnamed Cat 5 that breezed thru the Florida Keys in 1935. But of the top ten costliest hurricanes only one was a Cat 5 at landfall and most of the costly hurricanes have occurred in the last 15 years. What does this say to us about our tendency to put a price tag on everything?) Our price-tag culture tries to convince us that everything is for sale: (food, clothing, knowledge, insights, entertainment, sex, affection, loyalty)

In Sept 1999 someone offered to sell his own kidney on eBay. Bidding started at 2.5 million and was up to 5.75 million before eBay ended the auction.

We equate worth with money. What one is worth is valued in terms of financial power. Assets or earning potential. Career choices are made in terms of economics rather than calling. How many young people have been persuaded not to be teachers, artists, or missionaries because the work does not pay and it is hard to support a family? Churches are guilty of this as well when they equate status in the church with wealth. James warns us very sharply about showing favoritism of any sort based on finances or economics.
Our culture contracts relationships. Since ancient times, relationships have been contracted. When Paul addresses households he uses an ancient form that lays out the obligations of husbands and wives, parents and children, and masters and slaves. Relationships between these pairs were contracted. Marriage wasn't always about love, it was about business. Children were an asset to achieve power and wealth. And slavery was seen as a necessity. In our culture we have moved beyond overt slavery. But we still contract relationships. We have quid pro quo relationships that are arranged for mutual benefit. But what happens when the benefit if no longer there or no longer mutual.

We do this in churches. Consumerism is the greatest challenge to church life. Some churches are marketing their church to others. Does this cultivate love?
No wonder we try to contract our relationship with God. We have mistaken covenant for contract.
How can we cultivate God-like love?
Recognizing the cheap fruit and the hostile elements is only part of the process of good gardening. How can we cultivate the fruit of the spirit – how can we cultivate love?
Pay attention to Others. – Consider how this alone would cultivate love – To genuinely give attention to others is to demonstrate that Christ-like quality of love that looks to the interest of others. To pay attention to others regardless of who they are will overcome boundaries that often hinder the cultivation of love. To pay attention to others teaches us to be steadfast rather than conditional in the way we show love. To pay attention to others may encourage us to recognize how others are hurting. It is hard to pay attention to others if we are consumed with our own interests.

Giving and receiving graciously. – keeps before us just how much we have received from God. Love is a gift and it can only be freely given. But it is also important to receive graciously. The only thing better than buying good garden fresh tomatoes from the farmer's market is to get a batch of tomatoes as a gift from the abundance of a friend's garden. Part of the goodness of enjoying a tomato is to realize that this good food is a gift from our Creator. Giving to others reminds us that we cannot put a price tag on everyone and everything. Receiving graciously chastens us when we think we can buy anything we want. No matter how wealthy you may be or become you cannot buy everything. No matter how many resources we acquire as a church we will always be dependent on God's graciousness to do anything.

View our stuff and time as a trust we hold for God. - The laws of old Israel concerning possessions were not simply rules to take care of religious things. They were designed to remind the people of God of the source of their stuff and their time. The aim was to encourage them to share and not abuse one another. They were to leave the corners of their fields unharvested and leave the grapes that fell on the ground. That's poor economics because it doesn't maximize output, but it is godliness because it provides freely for the poor and reminds those who have that what they have is a gift from God.
Your stuff and your time is something God has entrusted to you. Now will you use it to cultivate real, Christ-like, fruit of the spirit quality love, or the mass-produced, ready for transport, high-yield, waxy imitation love that is so in demand and passes for love to those who aren't paying attention?
Chris Benjamin
West-Ark Church of Christ, Fort Smith, AR
Morning Sermon, 25 September 2005
---
 Link to next sermon
 Link to other sermons of Chris Benjamin