CRISIS AND CONTROVERSY
Restoration History #10
Click here to listen to this sermon.
Please ask Chris Benjamin for permission before reproducing
any of the images, graphics, or charts on this page.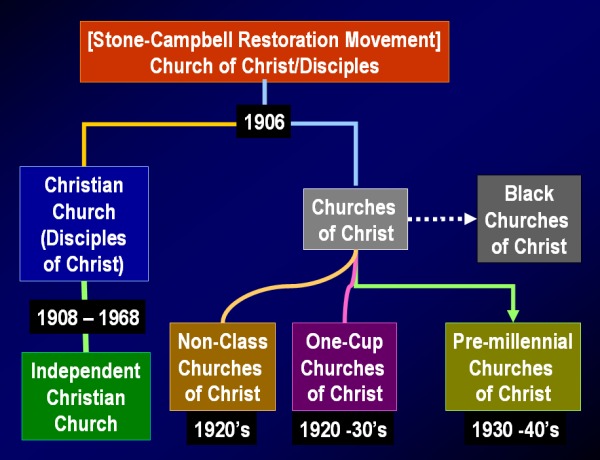 Growth 1906-1946
1906 - 159,658
1916 - 317,937
1926 - 435,714
1936 - 309,551
1946 - 682,172
Aftermath of 1906
Debate

- Controversy was the only way to reach consensus without creeds or conventions

Dissension

- Congregational division over various issues was common before 1930's

Disempowerment

- Afraid to do anything for fear of doing something wrong
Trivia or Truth?
Baptistery or Running River?
A plate for the bread or not?
Extend an invitation or wait for the question?
Elders or no elders?
Any song or just those addresses to the Lord?
The Sunday School Issue
Opposition to Sunday Schools

- Unauthorized [silence of Scripture]
- Biblical pattern instructed parents to teach children

1925 - Directory of Non-Class churches assembled
The Apostolic Way listed the faithful preachers and churches.
The Cup Question
In the 1920's multiple containers for the communion became common
At issue was the pattern of the Lord's Supper prescribed in Scripture

- Multiple cups were unauthorized
- The one cup was an element of the communion pattern

The faithful were listed in the Old Paths Advocate.
Millennial Controversy
R. H. Boll - 1915 Gospel Advocate articles
Believed the prophetic sections of Scripture should be examined
Was told to quit writing. He then started a new journal, Word and Work.

H. Leo Boles, Pres. Nashville Bible School
1927 Boll-Boles debate in Gospel Advocate (May-November)
After debate Boles invited Boll to speak at NBS Chapel service

1933 Neal-Wallace debate; Wallace suggested the issue threatened fellowship.
Wallace not only condemned Boll, but also those he considered sympathetic with Boll.

Criticism of Wallace's crusade
J. N. Armstrong:

- Premillennialism was a personal conviction
- Minority view should be treated graciously
Dynamics of Division
Focus on observable practice.
List of "the faithful"
No fellowship with error
Methodology more important that theology
One side opposes divergence from the pattern, the other is indifferent.
"Accept the Right, Reject the Left"
Chris Benjamin
West-Ark Church of Christ, Fort Smith, AR
Evening Sermon, 11 May 2008
---
 Link to next sermon
 Link to other sermons of Chris Benjamin